Gavan Anderson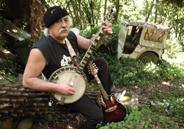 Gavan Anderson is a musician from Melbourne, Australia.
For a short period he moonlighted working on music for NES games1), and has contributed to at least one other game after that time.
Games
This list may very well be incomplete.
1990 - The Punisher

1991 - Star Wars - hardware support

1992 - George Foreman's KO Boxing

1998 - Alien Earth - hardware and network support
External links
1)
He mentions this in an interview for
episode 2.3
of the
C31
television program Wrokdown.
gavan_anderson.txt · Last modified: 2020/10/30 00:22 by rjt
---